David Spring and Elizabeth Hanson are two of the leaders of the Washington Public Bank Coalition. Together they run the website Washington Public Bank Coalition.org
Both David and Elizabeth have been college instructors for more than 20 years. They have both given presentations on the importance of public banking here in Washington state to many groups over the past six years. To the right is a picture of them at a protest of the Too Big to Fail Wall Street banks that are destroying our economy.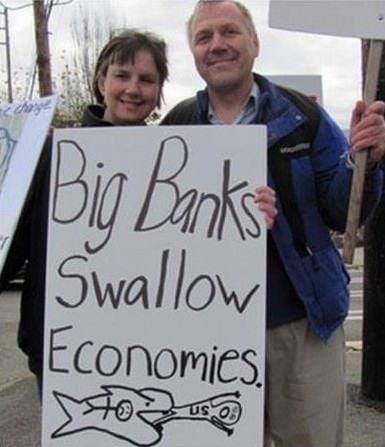 Elizabeth is also a representative of her union at the King County Labor Council and an elected Precinct Committee Officer for the 46th Legislative District Democrats.
David is an elected Precinct Committee Officer for the 5th Legislative District Democrats, an elected member of the King County Democrats Legislative Action Committee and an elected member of the Board of the Washington State Democrats Progressive Caucus.
Together, David and Elizabeth have worked to have resolutions in support of a Public Bank for Washington State passed by the King County Labor Council, the Washington State Labor Council, several Democratic Party Legislative District organizations, the King County Democrats and the Washington State Democrats.
David has written a bill submitted in the Washington State House of Representatives to create a public bank in Washington State which was cosponsored by more than half of the members of the House of Representatives. David recently wrote Senate Bill 6093 – sponsored by Senators Chase and McAuliffe - which among other things would provide more than one billion dollars per year to finance a public bank in Washington state. This funding could be leveraged into many billions of dollars of public school construction and repair projects and create more than 100,000 additional living wages jobs in Washington state.
Below is a picture of David Spring and his daughter Sierra talking with Ellen Brown, the national leader of the public bank movement, at a conference on public banking at the University of Washington.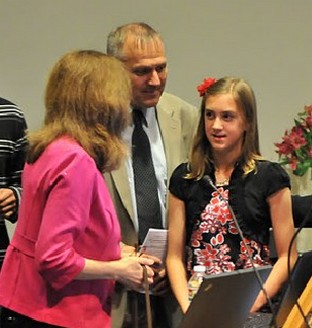 If you would like to arrange a presentation about public banking in your community, contact David and Elizabeth by filling out the Contact Us form at our website washingtonpublicbankcoalition.org.